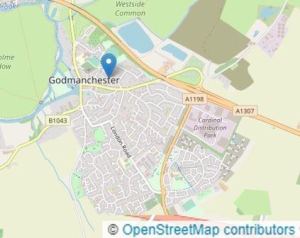 View Larger Map
You can find us in the heart of Godmanchester in East Chadley Lane.  The SatNav postcode is PE29 2BJ.
Parking
Parking in the streets around our Church Centre can be challenging and we have a commitment to our neighbours not to park on East Chadley Lane or Lancaster Way. To make things as easy as possible this is our advice on the best places to park.
Please allow a few more minutes to arrive so you can park away from the building. When you park, please be very careful not to block driveways, some of which do not have dropped curbs, or obstruct access for emergency vehicles.
The easiest places to park are either the Park Lane Car Park opposite Godmanchester Community Academy (PE29 2WQ) or the Post Street Car Park (PE29 2AQ). On Sunday mornings we also have use of the staff carpark at Godmanchester Community Academy on Park Lane between 10.00am and 1.00pm.
Our car park off East Chadley Lane includes three disabled parking bays and a cycle rack. There is no drop off or parking available from the Clyde Yard end of the site.
Where not to park!
East Chadley Lane and Lancaster Way. It is difficult to park in these roads without causing disputes with some of our neighbours.
Clyde Yard. Clyde Yard is private property and we don't have permission to park there.