Do you ever shop on the internet? If you do, here is an opportunity to raise money for charity by doing what you already do and at no cost to yourself.
Give as You Live is a scheme whereby any one of 2200 merchants will give up to 5% (typically 1-3%) of the purchase price to a charity of your choice. In return they have the opportunity to send you one e-mail a week suggesting stores with whom you may wish to shop, which of course you are free to ignore and do nothing differently than you did before!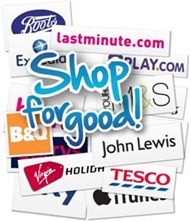 All you have to do is download software which pops up with a banner when you enter a site which offers the charity donation. You then choose to click on the banner to activate the software for that site on that visit. Thereafter everything is automatic and the charity donation is collected by GAYL and passed on to the charity.
The link below will allow you to download the software in order to support GBC, but at any point you can choose to change the charity you support to another – Cambodia Action (registered under the old, still official name of Southeast Asia Outreach), Anglo Indian Concern, Rehoboth Children's Homes Trust and Mission Direct are all registered as recipient charities, as are most of the major national and international charities.
http://www.giveasyoulive.com/join/godmanchesterbaptistchurch/ct4885
If you have any questions about this, do ask Brett Mickelburgh