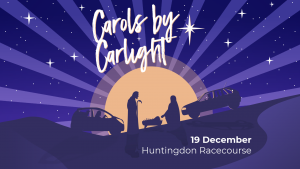 To book, click here. Price (£10 + booking fee) is per car, not per person.
Everyone loves a carol concert. This year we are doing things differently. Come with your family and enjoy a "Drive-in" carol concert all from the safety of your own car at Huntingdon Racecourse.
You will be able to view the event on a big screen and listen to it through the FM frequency on the radio in your own vehicle.
With a mix of traditional carols and more modern songs and a reminder on why we celebrate Christmas.
The event will run twice on Saturday 19 December at Huntingdon Racecourse, with a performance at 4.00pm and a repeated performance at 8.00pm.
Arrivals on site will be staggered so please book for one of the two arrival times for the performance you are attending. Stewards will guide you to park your car in such a way that it ensures that everyone can see the screen. This will be done in a Covid secure way.
There will be a hot drinks available that can be ordered and served to your car taking into account current Covid restrictions.
On eventbrite the refund policy is: Attendees can request a refund of the ticket price (£10 per car + booking fee) up to 7 days prior to the event. Eventbrite's processing fees are non refundable
For more information see our Carols by Carlight FAQs